Posted by TheCornerGuardStore on 19th May 2016
Shopping For Your Supermarket
With thousands of people purchasing food on a daily basis, one can just imagine the stress that the building is put under. From shopping carts to grannies with walkers and mothers with strollers, all of these things at one point or another, find their way into or scraping against a wall, the base molding or a column. Building managers can hardly keep up with the maintenance because of the constant damage being done to the building.
Luckily there is a solution! We offer companies a long term, sustainable solution. With every type of corner guard available on our online store, we will surely find the right one for your supermarket. What you, as a supermarket store owner should do is take a look around and see where the problem areas are. Every detail is important when buying wall protection units. Look for scuff marks, cracks and chips in the walls, and even on the doors. The next step is to decide on the material you would like to use, think about colors and strength. From stainless steel, vinyl, Lexan, brass and diamond plate, the options are limitless. Lexan and vinyl wall guards are inexpensive, light and durable and they come in a variety of colors to suit your needs. Stainless steel is durable and really beautiful.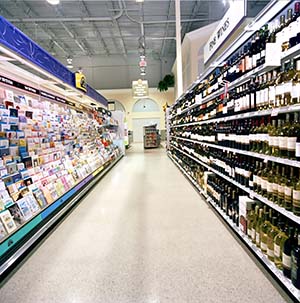 Lund's & Byerly's installed a wide variety of stainless steel corner guards, crash rails and column covers. They chose to protect their wooden counters with stainless steel hand railings as well as covering the counter legs. Then they added column covers for the walls.
For the entrance way, they chose something that wasn't so extravagant, but still very effective. White vinyl corner guards to protect from shopping carts and the rest.
If you are looking for a long term solution for your ever dilapidating retail store walls, we are the people to turn to. With excellent knowledge, know how and a friendly staff, we can assist you with your needs.