Posted by TheCornerGuardStore on 27th Jun 2016
Kitchen Hygiene and Wall Protection
If you own or manage a busy restaurant, you are sure to have seen your fair share of incidents. In the kitchen, in the seating area, even in the staff areas, accidents happen at rush time, and they happen all the time. Wall protection in your kitchen is actually much more important than most people realize, the whole area should be made to minimize bacteria, and with a deteriorating building, this is an impossible feat. With the right protective wall guards you can make your kitchen look amazing and be hygienic.
The kitchen is surely the heart of any restaurant, where the most work gets done and where it is the most hazardous to work. Hazards in the kitchen includes, but is not limited to spills, fire, sharp objects, chemicals and hot surfaces.
If you follow a few simple guidelines when kitting your kitchen, it will remain the clean space it needs to be.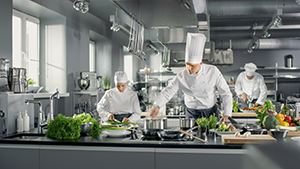 TIPS FOR BUYING KITCHEN STEEL
When you are about to choose a kitchen with large stainless steel surfaces, you must look at:
which type of steel it is, the steel that you buy, must be for strength; Look at the processing it has undergone
what technical characteristics it possesses (such as impact resistance, scratch, heat, etc)
the coloring process or finish the steel has undergone, this is to know how to maintain it best
the degree of hygiene it offers
WHAT CAN BE STAINLESS STEEL IN YOUR KITCHEN
sinks
tables and worktops
stoves
refrigerators
shelves
doors
furniture structures
cooking utensils
wall protection
CLEAN KITCHEN STEEL
When choosing a material for the surfaces of your kitchen, you must consider several characteristics: not only are valued resistance and appearance important, but also maintenance and cleaning of a material. Stainless steel is not hard to clean and maintain, but being corruptible by water over the long run, water stains can form so it must be cared for constantly and carefully.

When buying stainless steel for your kitchen, always take wall protection into account. At thecornerguardstore.com we take hygiene, easy installation and durability very seriously. Look at our stainless steel cove base molding and corner guards, we will surely have the right product for your kitchen.